For 40 years, MOBIL M has been a benchmark in expertise in France and more widely in Europe concerning commercial architecture.
Mobil M puts its experience in spatial design at the disposition of the client and for the efficiency and conviviality of sales areas. Today the profitability of the floor space is a determining factor and the return on investment an inherent preoccupation for MOBIL M. Thanks to the exclusive M method, and pre-reflection, Mobil M can propose coherent and clear personalised replies, MOBIL M can mobilize its teams and optimise its solutions according to client's problems.
MOBILM HEALTH
Since it was founded, MOBIL M Health has developed its "savoir-faire" in defining clients experience in health care layout. The MOBIL M Health teams are dedicated to independent professionals, pharmacy groups, health products and health professionals (clinics veterinary surgeries, opticians...) and are specialised and highly experienced. They bring together the logic of usefulness and the pleasure of creating unique spaces, at the same time being convivial and commercially efficient.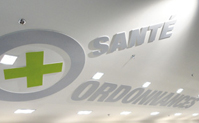 MOBILM STORE
It is quite natural that MOBIL M Store applies its expertises in marketing advice, use of commercial architecture, flow management, merchandising… to commercial spaces. MOBIL M Store propose solutions dedicated to independent professionals and groups in sectors as varied as restaurants, distribution, banking or services, luxury food retailing or with a theme, clothing…