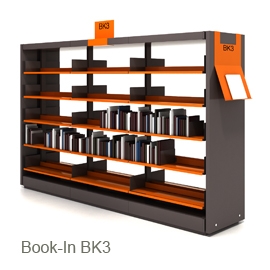 New : BOOK-IN
tuesday 05 october 2010
In an innovative step, IDM has developed shelving destined for public libraries. With its folded metal sheeting reminiscent of origami, the system BOOK-IN plays with modularity and is available in numerous finishes. The BOOK-IN fittings lend themselves perfectly to multiple uses required by media libraries and increase the comfort for users.
MOBIL M launch a new table-counter
thursday 23 september 2010
Leave behind the habitual image of a full and solid counter, and think of a lighter structure, that is the idea of the new tabM counter from MOBIL M. Straight away, the new tabM counter conjures up a different human relationship : its height (slightly reduced), and its lighter construction is more conducive to dialogue. The simplicity of the design (conjuring up the idea of a desk, or the family table…) and the horizontal top create a certain form of conviviality. A suspended case offers sufficient volume for all the ancillary technical equipments. The frosted glass and back lighting, as well as the woven polyester combine and contribute to the visual impact. Available in several formats, the tabM counter lends itself particularly well to being seated for confidentiality and tables for the presentation of products. For more information on the tabM, contact-us
.